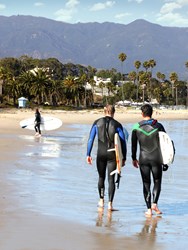 Santa Barbara, CA (PRWEB) November 27, 2013
Surf culture is synonymous with the laid-back, carefree California lifestyle. Most Californians appreciate the spiritual connection between man and the sea, and many share a fascination with watching surfers in action. Matt Warshaw, surfer and author of The Encyclopedia of Surfing, rightly observes, Surfing, alone among sportsturns not a skill into an art, but an inexplicable and useless urge into a vital way of life. Surfing is an integral part of the Santa Barbara lifestyle, which attracts visitors from all over the world who come to experience life on The American Riviera? firsthand.
Santa Barbara has always played an understated but influential role in the international surf scene. Pro surfers Tom Curren, Bobby Martinez, Kim Mearig, Kelly Slater and Shaun Thomson, and major brands Mr. Zogs Sex Wax and Al Merricks Channel Islands Surfboards all call Santa Barbara home. Legendary surf spots, such as Rincon, the Ranch and Jalama, and living legends George Greenough, Bruce Brown and Renny Yater have also helped put Santa Barbara on the surfing map.
With museums dedicated to surfing, plentiful opportunities for surf instruction, and breaks that attract surfers from all over the world, Santa Barbara offers an accessible cultural immersion for the budding surfer and surf-curious. And shoppers will be stoked about the surf niche retail scene. From the flagship Channel Islands Surfboards shop to custom board boutiques, Santa Barbara offers an array of contemporary surf fashion and equipment.
SURFS UP: MUSEUMS & MEMORABILIA

Santa Barbaras rich surf history is now preserved and the story told via the Santa Barbara Maritime Museums permanent Marilyn S. Tennity Surfing Exhibit: Surfs Up! Santa Barbara. Surfs Up! includes artifacts, photos, classic surfboards and other memorabilia, along with oral histories of famous local surfers, surf spots, board shapers and others who made Santa Barbara a leader in the sport. Video clips include Gates Foss, who first surfed Rincon back in the 1930s, and interviews with Renny Yater, Al Merrick, Tom Curren, Davey Smith, Kim Mearig and Bobby Martinez. In keeping with the museums interactive theme, a nine-foot high, twelve-foot long wave with sound and video allows visitors to get a sense of what it feels like to ride a wave. And a surfboard framed by a wave is perfect for photo opsand figuring out whether you are goofy or regular footed. (The museum is closed Wednesdays.)
Upstairs from the Maritime Museum, the Endless Summer Bar-Caf? has filmmaker Bruce Browns official endorsement and is decorated with memorabilia from the film Endless Summer (1964), a world-famous surfing film that helped define the genre and mirrored the surf culture which has become such a part of the California lifestyle. The restaurants collection of surfboards includes one of the first boards made by Renny Yater in 1953 and an abalone inlay board made by Renny and installed in honor of Bruces 70th birthday, celebrated at the restaurant. The casual restaurant has great harbor and mountain views, a lively, inviting atmosphereand you might just spot Bruce himself savoring fish and chips.
For more surf culture, head to the Funk Zone (near Stearns Wharf) to visit the Santa Barbara Surfing Museum. Not your average museum, the impressive collection curated by photographer and founder James OMahoney includes collectible surfboards, skateboards, skimboards; surf music, books, art and movies; and vintage clothing and antiques. The museum is open Sunday afternoons from noon to 5pm or by appointment, and admission is free.
Round out your surf education with a visit to Sullivan Goss Gallery to see iconic paintings of surfboards and beach scenes by local artist (and surfer) Hank Pitcher. And stop by Jaffurs Wine Cellars in downtown Santa Barbara, near the waterfront, to taste the wines of surfer-winemaker Craig Jaffurs. The tasting room/production facility is decorated with rare, vintage surfboards, and Jaffurs collaborated on a limited edition wine with label artwork by Hank Pitcher.
THE BREAKS: BEACHES FOR BEGINNERS & EXPERTS

Over the years, surfers discovered breaks once known only to locals. The most notable, Rincon, is considered the Queen of the Coast set on the Santa Barbara-Ventura county line. Waves peel flawlessly for up to half a mile, and it has long been a testing ground for surfboard technology and design by Santa Barbaras most famous surfers and shapers. Leadbetter, Santa Barbaras downtown surf spot, provides small breakers perfect for those learning to surf, located just west of the Harbor, across the street from Santa Barbara City College. At the University of California, Santa Barbara, the aptly named Campus Point also has a great break for novices. Although a relatively mellow surf spot, winter swells can produce classic top to bottom barrels (perfect waves) off this shale-layered point. Sandspit, at the Santa Barbara Harbor, is best in winter and is not for novices! The waves break with heavy backwash and long-spinning tubes and are often crowded with surf-stoked locals.
El Capit?n State Beach, one of the best cobblestone point breaks in California, is fifteen miles northwest of the Santa Barbara Harbor. El Capit?n produces hollow waves (tube rides) when a good-sized west swell reaches around the Channel Islands. There are a myriad of secret surf spots in and around the Channel Islands. Exposed breaks, swift currents, and rocky reefs make surfing there very dangerous. Jalama Beach Park, north of Point Conception and quite a bit off the beaten path, is often exposed to high wind conditions. Jalama features both beach and reef breaks, and the dramatic conditions require experience and higher skill levels.
LEARNING CURVE: SURF LESSONS & CAMPS

A variety of surf schools, seasonal camps and instruction options are available for beginners of all ages and group sizes: Santa Barbara Adventure Company, Surf Happens, Santa Barbara Surf School, Santa Barbara Seals Surf School and Ocean Adventures/A-Frame Surf Shop. Rentals are available at A-Frame, Channel Islands Surfboards and Surf N Wears Beach House surf shops. And, for a different approach to surfing, try Stand Up Paddle Surfing with the help of Channel Islands Outfitters. Note: Novices are strongly encouraged to learn the etiquetteunofficial rules that surfers follow to create order and foster safety in the waterbefore heading out to ride the waves.
LOCAL FLAVOR: SURF GEAR SHOPPING GUIDE

Santa Barbara offers a number of locally-owned and operated surf retail shops that have managed to survive the competition from major chains. While Channel Islands Surfboards might have gone big time (now owned by Burton), the brand has distinctly local roots and the flagship Santa Barbara retail store, located in the Funk Zone, boasts the largest number of boards shaped by Merrick.

????A-Frame Surf Shop (3785 Santa Claus Lane, Carpinteria): Run by brothers Sam and Rob Holcombe, A-Frame is right on the beach at Santa Claus Lane and carries apparel, wetsuits, sunglasses and boards. Rentals available for visitors.
????Blueline Stand Up Paddle Surf (24 East Mason Street, Santa Barbara): Blueline has one of the largest inventories of Stand Up Paddle Surf equipment in the nation, and offers a retail shop in the Funk Zone.
????Channel Islands Surfboards (36 Anacapa Street, Santa Barbara): CIS was started in Santa Barbara by legendary shaper Al Merrick in 1969, and has sponsored some of the best surfers in the world including Tim Curran, Tom Curren, Taylor Knox, Rob Machado, Yadin Nicol, Dane Reynolds, Kalani Robb, Kelly Slater, Lisa Anderson, Rochelle Ballard, Bethany Hamilton and Sofia Mulanovich. The flagship retail shop is the only place in the world where Santa Barbara branded CIS apparel is available for purchase.
????J. Seven Surf Designs (24 East Mason Street, Santa Barbara): At